Composers
Eckart Seeber - Composer
(SONOVIDE Recording Artist)
Brian W. E. Johnson
(Satva Music)

Performing Artists
Mark Middler - Singer/Songwriter
Cristine Seeber - Singer/Actor
(SONOVIDE Recording Artist)

Orchestras/ Ensembles
Ukrainian State Radio and Television Symphony Orchestra
Ukrainian State Radio Chorus
Cantori Sine Nomine, Los Angeles, CA

Conductors
Vladimir Sirenko
Stephen Gothold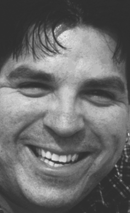 Nathan Gomez
Singer/Songwriter

Nathan's debut album "I TURN TO YOU" attests to the passion he has as a Christian singer and songwriter. As a cancer and stroke survivor, he sings of his faith and wants others to see this release as a message of hope. The album, which includes several hits by Amy Grant, Michael W. Smith, Twila Paris and others, can be purchase here at our ONLINE STORE. The CD also features five of Nathan's own songs (Lord, I Praise You, Is It You, Lord?, I Turn To You, Just Knowing You Still Love Me, and God Needs You Now)

Born in Montebello, California, he is the middle child of three. Music has always been a passion for him. In fact, it is some of the songs on this album that have helped him through his struggles as a cancer victim in his late teens.

Nathan will be touring Southern California this Fall and Spring 2003. For up-to-date touring information, please check out the ON TOUR page. To book Nathan to perform at your church or center, please e-mail us at info@sonovide.com or call us at 909-886-4622.